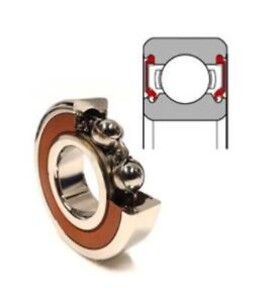 As common as ball bearings could seem, they are used under challenging conditions, which drove NTN to develop more technical seals.
For instance, agricultural machinery (with mud, water, dust...) or the food processing industry (stream, waste...) are all challenging environments that require top sealings. The NTN Group has been working for several years with the main OEMs to offer the most reliable standard sealed bearings on the market.
PRODUCT FEATURES
Double sealed bearings (LLU)
Outer ring incorporates synthetic rubber molded to a steel plate.
Seal edge contacts V-Groove along inner ring surface, thanks to 2 lips.
Torque : medium
Dust proofing : ++
Water proofing : +++
Speed capacity : limited by contact seals
Allowable temperature range : -25°C to 110°C
Single sealed products (LU) are also available
Red color
LLU EFFICIENCY
Description
The seal is designed to ensure interference between the inner lip and the inner ring:
Grease retention in the bearing
Prevention of pollution penetration
Positioning of the outer lip (non-contact) for a labyrinth effect reinforced by the V-groove
During the operating cycle of the bearing, the interference reduction of the inner lip gradually brings the outer lip into contact with the inner ring -> reinforcement of the seal performance for lasting protection.
LLU EFFICIENCY
Advantages:
1- A high level of protection.
2- An intelligent design with a search of optimal performance over time.
3- A wide dimensional range of sizes available with the same design.